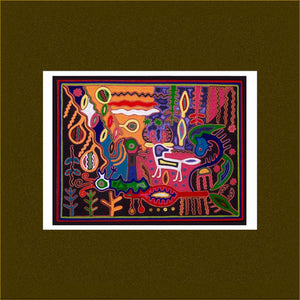 The image on this card is a reproductions of an early masterwork by the world-renowned yarn painter José Benítez Sánchez. The card opens horizontally so the image of the yarn painting can be viewed while reading the detailed explanation of its meaning. The text is in English and the cards are blank on the inside.
Minimum order of 6 cards is $18.00 plus $5.50 postage for first class mail within the United States.
Proceeds from the sale of cards support the ongoing development of this Web site.